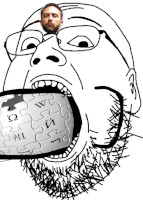 Joined: Mon Feb 26, 2018 8:50 pm
Posts: 3541
Od Mishehu
Isn't there something a little hilarious about the fact this long standing Administrator has been blocked by BU Rob 13 of all people, based on loss of trust?

For background, back in 2008 OM was suspected of creating socks to vandalize articles, one edit having dire consequences, but he was seemingly cleared because it was deemed plausible it was someone else at his work, perhaps even a colleague fucking with him. This month, he has been desysoped and now blocked because apparently someone using his IP was making mindless edits to project space. In both cases, it seems there is no plausible reason OM would be the vandal, other than a psychotic break.

We know what Administrators having a psychotic break look like. OM is no Malik Shabazz. Note least because OM has actually been desysopped and blocked, while Malik has merely run off screaming into the woods in his underpants, breadsticks up both nostrils.

It's hard to give any further details as to what evidence there is to convict or clear OM on either incident, because of course the facts are deliberately kept from everyone but those trusted to interpret confidential information on behalf of the community. Details of the 2008 incident are only known due to Wikipedia's own Edward Snowden.

But of course what we do know is that Wikipedia has a horrendous record when it comes to wrongful convictions for socking or logged out editing when based solely on supposedly incontrovertible technical and behavioral evidence.

Many of us have watched with much hilarity as they have even blocked accounts that are supposedly us. Wikipedia never has, and likely never will, perform any vigorous assessment of how robust these systems are. The allowance for users to create socks for the purpose of such testing, having long been (entirely unofficially) outlawed by those whose cowboy methods it would expose.

When the system is so unreliable when it comes to the basic evidential tests (and more importantly, interpretation), the most important thing to consider in these things, is always motive. Where OM appears to have no motive, he has been blocked for not having a satisfactory explanation for how it could not be him, which has supposedly been concluded on both technical and behavioral grounds. In the 2008 case, we saw that this can be as weak as sharing the same IP and user agent, and editing the same pages and using US spelling.

As bad as Wikipedia capacity for Special Investigations was a decade ago, there's no reason to think they have got any better at it in the meantime. And indeed there is every reason to conclude, as the community has had less and less opportunity to choose its investigators based on merit (the entirely suspicious character Rob was elected to ArbCom only because there was only eight viable candidates for eight seats), that it has got worse.

Interesting to note then that in this same week Malik Shabazz was not blocked for not having a plausible explanation for why he couldn't possibly have been the logged out editor who magically assisted him, and for whom there was both technical and behavioral evidence to believe he is the guilty party, and a clear and obvious motive why he would do it.

Malik could of course have been Joe jobbed. And yet even then, it is worth noting that this seems unlikely given the IP socking was not reported, it was simply noticed in the historical record, as part of an investigation into other disruptive behaviour by Malik. While still not implausible, it would take one hell of a set of circumstances to believe that was a Joe job (and a pointless one at that, since Malik was not found guilty of socking anyway).

OM's latest trouble on the other hand, seems to have been discovered only after it was noticed and reported to Wikipedia SIU (by God knows who) as a violation in of itself, and it seems to have been tailored to fit the known history of the previous incident. And BU Rob certainly seems to have been keen to progress the case to the point of a block, violating his own supposed principle of separation of powers. So absent motive, it seems far more likely this could have been a Joe job.

Out of OM and BU Rob, which user has the more suspicious activity profile? Which has the more questionable record of trust, loyalty and dependability? Who are you more likely to wonder about whether they are really behind the goals of the Wikipedia project?

Rob talks a good game about his supposed commitment and virtue, and OM by contrast says virtually nothing about his personal views. If measured on length of service and number of edits, it isn't even in doubt which of these people is more committed and more deserving of a benefit the doubt. Rob claims he shows his commitment in other ways, but that seems unlikely given he has recently resigned from being an Arbitrator for what seem like entirely selfish reasons.

The block of OM on grounds of loss of trust is remarkable when compared against these two other users, the shady Rob who casts himself as his better, and the psychotic serial major rule breaker Malik, who even now, is apparently deserving of infinite amounts of good faith from the community.

Now, the real question for the Wikipedians, the one they seem entirely uninterested in asking, much less hearing an answer from SIU - if they haven't made a mistake in their conclusions, if they haven't been fooled by a Joe job, what is the actual plausible motive for OM doing what he did? I only suggested psychotic break, because it works. As they never tire of telling us, Wikipedia Functionaries are not trained for anything, least of all the diagnosis of complex personality disorders, so I would suggest to them that when this is the only plausible explanation for their blocks, and they refuse to even offer any alternative, they have probably screwed up somewhere.

There's no indication the SIU found any reason similar to what has been claimed is Malik Shabazz's excuse for a descent into mindless trollery, it is apparently assumed OM just did it (or has done it for ten years) because he could, and is now denying it because he can, and somehow in six months time if he reverses his position, he can be unblocked and the community can trust him again.

As usual, it is the people on the inside who look crazier than those they kick out.

People not paying close attention might assume OM not saying anything in public is an admission of guilt. The counterpoint is that everyone in SIU trying to hide the truth are justifying their opacity because to reveal any details apparently breaches confidentiality and endangers his safety.

This would not be the first time then, that a user kicked out of the community because of a loss of trust, is faced with choice of having to reveal information they would sensibly consider private and personal, to try to convince people outside of SIU that there has been a miscarriage, or take the view that if they can make a mistake like this, there is no point engaging with them any further. Just walk away.

Not everyone can be a Malik Shabazz. Wikipedia being what it is, if you want to stay inside the tent, you always need people in your corner prepared to demonstrate their own peace of mind with being seen as untrustworthy and entirely anti-Wikipedia in their thinking, in how they defend you. You need friends, and they need to be scumbags.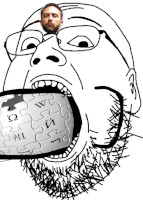 Joined: Mon Feb 26, 2018 8:50 pm
Posts: 3541
Shady as fuck....
Quote:

The basic reason for my block is that I don't feel the editor can be currently trusted, but I too hope that trust can be regained. Based on the evidence I analyzed, Od disruptively vandalized content pages (not articles, but pages that contained content nonetheless). These are pages that our readers could navigate to from mainspace, in certain instances, not project pages. Moreover, he did not take ownership of this fact, instead continuing to evade scrutiny. Most importantly, he did this all from a role of extreme community trust, which makes the breach of trust so much worse. It will likely take an ownership of his conduct and a frank explanation of why he felt it necessary to start on the path to returning as an editor. ~ Rob13Talk 10:52, 6 June 2019 (UTC)
If Administrator is a position of "extreme" trust, what is Functionary? DOUBLE PLUS TRUSTWORTHY?
A Functionary certainly shouldn't be someone claiming they acted unilaterally when that clearly wasn't the case. A Functionary certainly should know that when it comes to breaches of trust of this nature, it matters not what pages were disrupted, or for what purpose (especially when they apparently cannot identify a purpose). A Functionary certainly should be able to avoid using Wikipedia-specific terminology like "evade scrutiny" in such an entirely confusing way (seriously, what is he alleging there?). A Functionary certainly should be able to recognize that if they claim to have incontrovertible evidence of abuse of privileges, then there really is no point in expressing your hopes and dreams, your only role is to clearly state without equivocation that the user is not and never will be unblocked without a confession and expression of remorse.
If there is any reason at all to think OM might have a route to unblocking that does not involve a full confession, then this block is clearly unsound, or at the very least more detail is required as to the supposed "incontrovertible" nature of the evidence.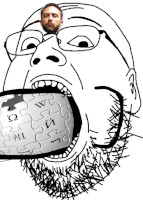 Joined: Mon Feb 26, 2018 8:50 pm
Posts: 3541
Vigilant wrote:

Our very own BU Rob13 blocked him for Checkuser naughtiness.
Our very own?
Wow.
OK dude, with you two being such good friends and all, I hope he'll tell you what specifically this block is based on. What is the nature of the technical evidence, on what basis has Rob concluded there are no possible innocent explanations, and indeed what the behavioral matches were, and the same for that too (for a laugh, see if he can give us the percentages).
If he tells you he can't say because of Offishul Sekrets, point out that you're nobody's fool (or never used to be anyway), and you know damn well he can give you this information in such a way as to satisfy smart people without any possible breach of confidentiality.
Now, when you're done sucking his dick and he has given you all that information, after you have got permission from Uncle Jake using the string-can phone to prepper central, do the world a favour and pass it over here, so serious critics can make use of it to target the bad people. Y'know, the Wikipedians. You remember them, right?
Or you can just keep making nice with Rob in that Wikipedian's tree house you got going over there.......
Fuck, dude. They used to be afraid of you man. What a waste.