Psyop

Joined: Fri Feb 24, 2017 5:56 pm
Posts: 1330
Katie Bouman
Because it's "news", that an article was created about her. And some petty shitasses tried to delete it (going to great lengths), while other petty shitasses "speedy keep"ed it. A routine occurrence in the black hole of Jimboverse. But this time there was media coverage.
https://slate.com/technology/2019/04/ka ... e_taps_top
Note:
Quote:

Back on Wikipedia, a few in the pro-delete tweet camp were nasty and sexist. One editor pointed out that "as a young good looking woman she was much more attractive to the media" than the low-resolution photo of the black hole, and that the MIT scientist should only be covered as a "media phenomenon" since "sex sells." On Twitter, another user falsely claimed that the only thing Bouman contributed was "changing fonts" in the code, suggesting that this was secretarial work that a high school student could handle.
https://www.theatlantic.com/science/arc ... le/587137/
Quote:

Bouman's Wikipedia page was once flagged for deletion because the site's standards found that she was "not notable" enough. Now it carries a paragraph detailing her viral story and the harassment that followed, like a cautionary tale for other women in the sciences. It is both a reminder and a warning. Hard work deserves recognition, but what happens when there's too much?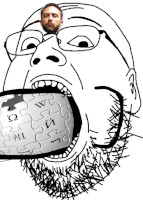 Joined: Mon Feb 26, 2018 8:50 pm
Posts: 2357
Re: Katie Bouman
The sheer weakness of those arguments to keep, and therefore the quickness of the outcome itself, especially the ones from the ever moronic Jess Wade, won't stop this being an issue any time soon. If they were trying to argue Bouman is somehow notable for reasons unrelated to her gender at all, positive or negative, thus removing any suspicion there is an agenda in play to manipulate Wikipedia on either side, they manifestly failed, under the current rules of the game. These rules were clearly ignored.

It is as clear as day to anyone who claims to understand the tenuous basis of Wikipedia self-governance, namely consensus and weight of argument as convened from a bunch of randoms, depreciating all forms of weak if not bogus argumentation. It should be clear to, say, someone like Gorilla Warfare. But no, in her frustration that people even dare to still AfD pages on women, she seeks to blame something else entirely. There are sexists on Wikipedia who will say and do anything to achieve their goals, but it is inarguable that this cannot be what motivated everyone who disagrees with her.

It is also inarguably true that much of what used to happen in these cases in terms of pushback now doesn't, but not because they've been convinced by the other side, rather because people acting on good faith are now reluctant to speak out, for fear of offending the uppity and emotional wimmin. Which of course doesn't help their cause, the sexist's case being that women are nothing but uppity and emotional, expecting special treatment, not equal treatment.

If they want to remove the ability of sexists to actively game Wikipedia, if they want to stop it being so easy for them to cast women or the progressive media as the problem, and indeed if they want to remove even the dead hand influence of subconscious biases, then to achieve what would truly be a lasting change for that shithouse, they really have no choice but to start addressing the systemic flaws with the system which allow it, making it easier then to remove those who are clearly acting in bad faith, or are still not accepting their own unconscious biases.

These systemic faults being the fact these AfD debates for example are often riven with subjectivity, argument from assertion and just plain stupidity. And more than a touch of scale tipping on grounds of gender alone (a sort of affirmative action), without having the integrity to admit that is what is being done. Affirmative action would be a perfectly legitimate way to address the problem, but to pretend like this is already Wikipedia policy when it is so clearly not, or use the deeply crowned upon technique of fait accompli to achieve it, is an easy stick to beat Wikipedia with.

The Wikimedia Foundation seems to understand this, and has advocated policy change via a pivoting of inequality and demographics of the user base, as the route forward, but of course they can do nothing if the people already on the ground, the Jess Wades and Gorilla Warfares, continue doing what they're doing in cases like this. That won't bring a smarter and more diverse user base to Wikipedia, it will only bring people who are so dumb they will learn from their flawed methods and try to repeat them.

The Foundation may yet step in with Executive Power if it is shown that an effort to change the policies is the reason Wikipedia continues to appear sexist. That seems as unlikely now as it was a year ago.